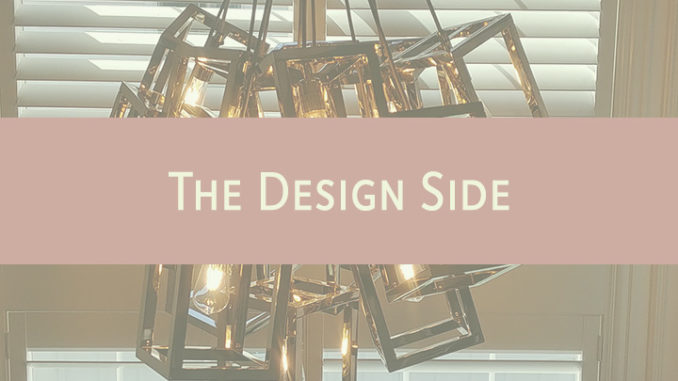 The Building Industry Association of Central Ohio (BIA) Parade of Homes takes place in September, and in fact, is going on now. Spending decades as a fashion designer, I always see September as the beginning – a time to be inspired and excited about new trends. The Parade gives you a glimpse into home trends the way The September Issue gives you a glimpse into fashion – that is if you know how to read the homes.
I visited all seven custom homes at Eversole Run, in Jerome Village Wednesday. They are all beautiful – they are all really large – they are all HGTV worthy. There were 7 custom builders: Manor Homes,  Romanelli & Hughes Building Co., Arthur Rutenburg Homes, 3 Pillar Homes, Memmer Homes, Coppertree Homes, and Bob Webb Homes. I could give each of these homes a dedicated post, and describe every detail – but, that is not how designers do things. Onto the trends – broken down in a way that makes sense to me (and hopefully to you too)!
LOOK UP – Ceilings
When I am showing homes, many people say that they do not want textured ceilings. I suppose the traditional brush texture ceilings look dated and people prefer a flat finish drywall ceiling. So, imagine my surprise when I looked up and saw a few knock down brush/ trowel textures on ceilings. The textures were not in the main living spaces – those were still flat painted surfaces – but ceiling surfaces don't have to be flat to be gorgeous and look high end.
Not only did the homes have tray ceilings, but many of the homes incorporated beamed ceilings. I feel like the farmhouse vibe has been elevated and refined. It's part refined farmhouse, part Aspen lodge. There were also faux painted ceilings, wood ceilings, and (always look up) unexpected brick veneer ceilings.  With all of the grey interiors we are seeing, wood (even or the ceilings) lends warmth to a space.
LOOK DOWN – Flooring
The homes at the Parade had hardwood floors throughout, I wanted to concentrate on what else was there – carpets, tile, and the lower level finishes. But first, hardwood – the planks are larger, like we have been seeing the last few years. My favorite look was an unexpected lighter wood used for the main level flooring, but then the stairs were a darker stained wood. This warm contrast helped ground the neutral and white interior and the wrought iron used for the hand railing on the stairs.
Carpet was subtle textures or outright patterns. I think a little goes a long way, but the interest was refreshing (especially the plaid). One of the homes did have a rug made of the same carpet on the lower level, to tie everything together and ground the carpet (so to speak).
Floor tile has moved in the last 3-4 years to the longer plank tiles, and there was still a little of that, but the newest tile was hexagons about the size of my hand. I love the way this is a nod to a very old tile but in an exploded size. Again, supporting a refined farmhouse or lodge vibe. Also, very large square tiles are looking new again in a matte finish.
Lower level flooring looked new with the sanded, painted, stained, polished, and sealed concrete flooring. It looked new and different, but I prefer a wood look, which most of them had. I think a concrete floor in a lower level seems cold. It worked with the homes' lower level vibe: bars, game rooms, tasting rooms, and workout spaces.
LOOK ALL AROUND – Walls and Tile
The walls were for the most part 50 shades of… As I view homes that have been flipped, redone, or merely repainted to prepare to sell, homeowners are choosing gray as a color. There are a vast range of grays on the market, and not all grays go with all interiors – consider carpet color and trim color and even cabinet colors: wood colors look different depending on the color of gray you choose – so choose wisely. Don't go to Home Depot and tell the friendly clerk in the paint department you need a gray paint, this choice is bigger than that. With that public service announcement, I have included a downloadable PDF of paint colors per home that was shared with me by the Sherwin-Williams' rep at the Parade HERE.
Accent walls were still showing up, some with an accent of a solid color. But, more interesting was custom painting, wallpaper, shiplap (just one, thank you Joanna Gaines), and brick. Also fireplace finishes stretched to the ceiling – whether it was tile, stone, or brick – they were statement walls within the living areas.
And then tile… I love to see how designers put together tile collections in a bath. It is OK to mix tiles, but you really need to think about the whole look. There were quite a few baths that still used subway tile. I don't know if everyone thinks through grout – but it can really make a difference in the look. A wonderful example was in a home where they embraced the brass fixtures returning and used the grout to bring out the brass/ bronze color. It was subtle and yet stunning in its simplicity. Otherwise, tile ranged from matte with texture to the shiniest, glitziest tile in the master bath in the Bob Webb home. There was even a tasteful version of adding the accent tile in the shower. Designer piece of advice: if you are building a home and are in the builder's showroom and they show you bath accent tile, it is better not to do it. You won't miss it and with their limited choices of tile you may hate it; and if you hate it, imagine putting the home on the market someday. Just don't do it.
KEY BATHROOM TAKEAWAYS
Bathroom – in the name: a room where you can take a bath. Well, it seems we should all go ahead an adopt the word: showerroom. A large number of bathrooms in these homes do not have actual baths. I get that on one hand, baths are a waste of that precious resource: time. I might not have counted 100% accurately, but in the kids' bathrooms and the extra bathrooms, I only saw 4 traditional bathtubs. My mind went to where do you give the babies their baths? Also, where do you give your dog a bath? (Last year, multiple homes at the Parade had dog showers in the mudrooms.) There were baths in the master suite for the most part – these are basically bathroom furniture.
WOW! Take a look.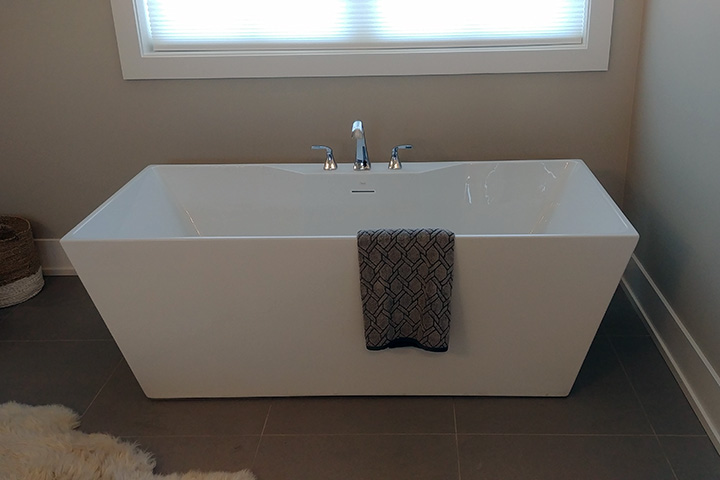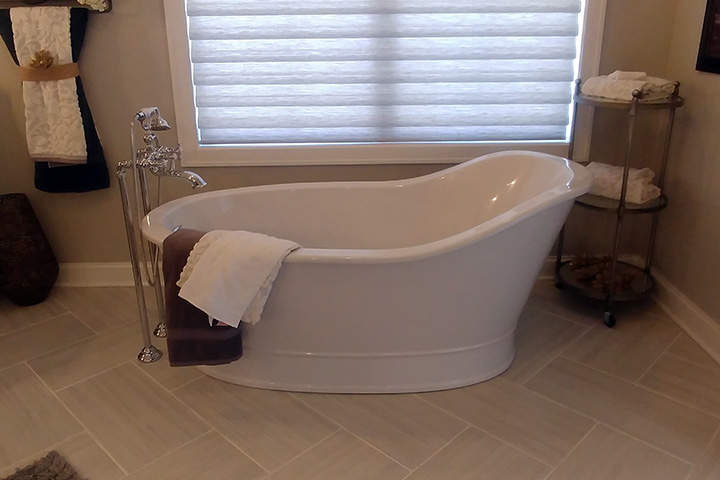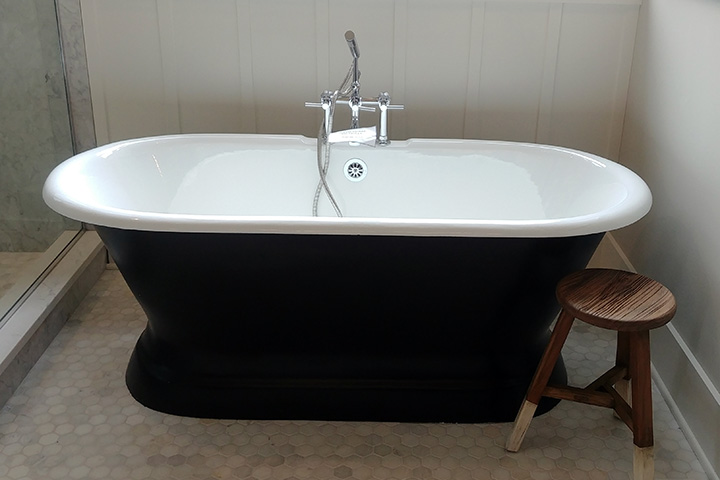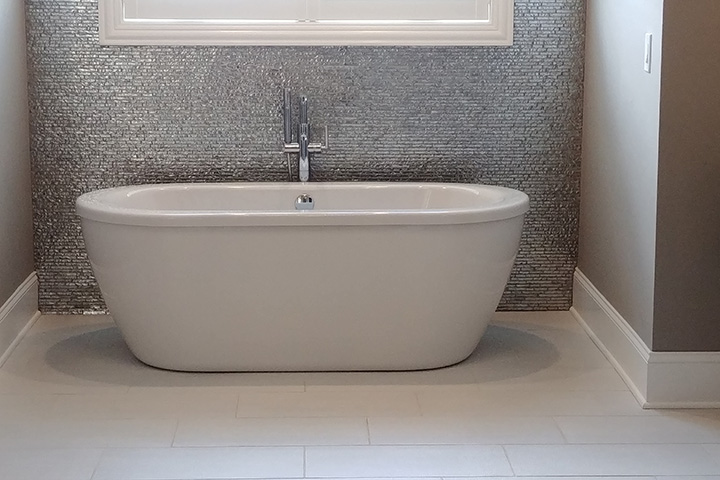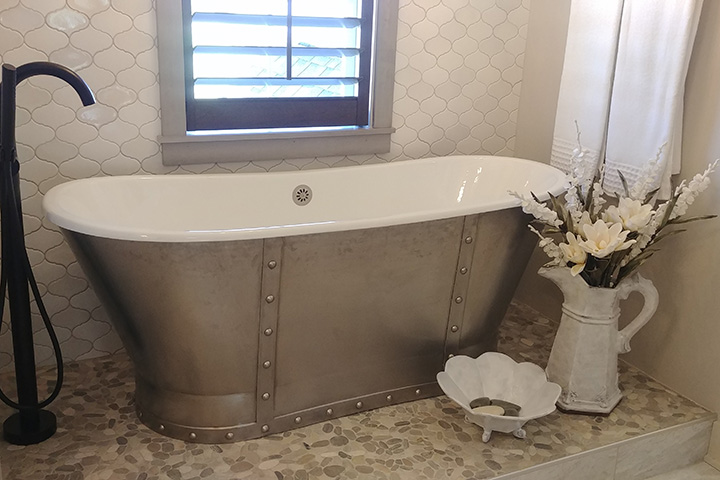 The last bathroom trend is extremely appropriate with this year's most famous market listing: the Brady home. Most of the Parade homes have the Jack and Jill bathroom, and it has come a long way.
MY FAVORITE KITCHEN MOMENT
The kitchens were each beautiful and spacious, Pinterest and Instagram worthy. I was surprised by the number of extra little kitchens – small or large extra spaces to prepare food. These were on the top floor, in the lower level, multiples in the lower level, and even a small area in a master bedroom. I suppose it would be handy to have a coffee maker in the bedroom. The counter tops are lighter if they are granite – but Quartz is more updated than granite. Last year, we saw the pebble finish granite looking very new, and this year there was a pebble finish on quartz. Pebble finish is a matte finish with a slight texture. I loved bits of brass in the lighting and pulls coming into some of these spaces – again, it adds warmth to so much neutral. Refrigerators that are hidden with cabinet fronts are also a trend that was prevalent at the Parade.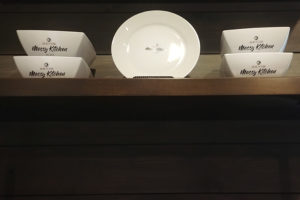 My favorite kitchen moment was in the Bob Webb home, where there was a hidden kitchen off of the main kitchen and there were cups and mugs and plates and aprons all with the logo Bob Webb Messy Kitchens. I fell in love and needed to know more. This isn't for everyone, but the idea of having a space you can keep messy with all of your food prep is awesome. Homes used to have that before open floor plans became the rage – it was called a kitchen. It had 4 walls and a couple of doors. Whether you see this as adding another kitchen or you see it as the main room having a beautiful space to set out party drinks and treats, it's a cool idea to put the kitchen back in the kitchen. Read all about this innovative idea from the designers at Bob Webb here.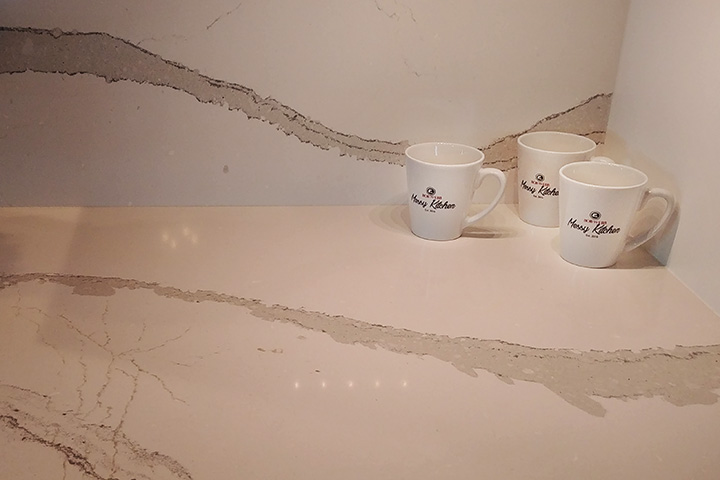 TINY PEOPLE
There were beautiful bedrooms for the children and the Jack and Jill bathrooms and some second floor hang out spaces. In these homes, it felt like the adults had taken back the lower level for the most part. Now, I say for the most part, because at least one home had a craft room and one home had a kid's large room on the lower level. Otherwise, the little nook under the stairs (think much nicer than Harry Potter) belonged to the kids. Actually, they were adorable little spaces.
With all of this talk of beautiful new homes, I want to point out that the most important first step when buying a "new build" home is to find a qualified real estate agent to represent your needs. When you walk into the model home or office to talk about building your dream home, THE SALESPERSON OR REP IS WORKING FOR THE BUILDER. You need someone who is working for you with your best interest in mind.  Find out the many reasons why on our Buyer's Resource Realty Services site.
To finish up, here are some of the gorgeous outdoor spaces that the designers created. Enjoy!
Thanks so much!!!
Tina