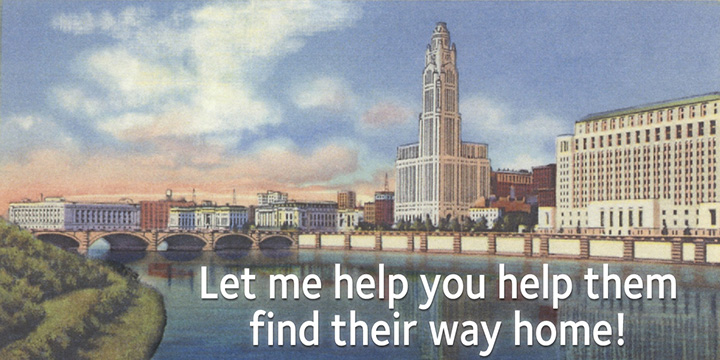 I have a monumental goal: become the #1 Inbound Relocation Real Estate Agent in Ohio. It may seem unusual to put that out there – to tell you my goal, but I want you to know. I want you to know that I am not just another real estate agent helping people buy and sell homes – there are about 8,000 of those in Central Ohio right now.
Here is a list of reasons why I think you should let me help you. Ultimately, your company will be the winner:
I am an Exclusive Buyer's Agent. This means that I only represent Buyers, NEVER Sellers.
I have such a passion for helping my clients buy their dream home for the lowest price and the best terms. Our Brokerage, Buyer's Resource Realty Services, uses Buyer-centric Purchase Contracts; most traditional Purchase Contracts protect the Sellers.
There is absolutely no extra cost to you or your new hire for having an Exclusive Buyer's Agent help them find a home.
When I was a clothing designer, I relocated multiple times. Those experiences showed me that there is so much more I could do to help someone trying to get situated in a new city with a new job.
I've lived in major metropolitan areas, so I understand the differences and similarities of what metro Columbus has to offer.
I will work with you to become an advocate for your company, as well as, metro Columbus, Ohio. I want to become an extension of your Human Resources department – where many companies don't have the money to put into a full-time relocation expert – you can have me on your team.
I love doing this!!! Helping people is my happy place: educating Buyer-Clients on areas around Columbus; walking them through the buying process if they have never owned a home; pointing out the good and the not so good in a home so they aren't surprised; negotiating to get new garage doors, new furnaces, radon mitigation systems installed and more so that their family is comfortable and safe….all my (and your new employee's) happy place.
Your new hire will be happier and less stressed with their relocation. They will in turn be more productive sooner. You are making an investment to move the right candidate to your company, you should hand them off to someone who will continue to treat them like the company views them – as the right candidate that you believed in enough to invest in moving them across the country.
I would love to talk to you more about how we could partner together. Let me help you help them find their way home!
Thanks so much!!!
Tina
Send me a note on my contact page, email, or call.
Office: 614-888-4110
Direct: 614-918-3337